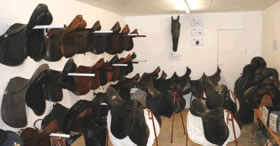 Welcome to Dublin Tack the home of affordable quality used saddles and new equestrian tack.
We stock all the major saddle brands and sizes for your convenience and offer the type of service that only a family owned business can offer. Whether you order online or come and visit our showrooms we aim to make your dealings with us as easy as possible.
For online orders we offer a full detailed information service on all our used saddles and are happy to answer any questions you may have in relation to your expected purchases. Rest assured if it doesn't suit bring it back within 5 working days from when you receive it and we will provide a more suitable replacement or refund.
Thank you for choosing to visit our site and we look forward to meeting you and your high expectations for our products and services.